Basie Conservatory's virtual efforts keep the beat for aspiring musicians, international masterclass opportunities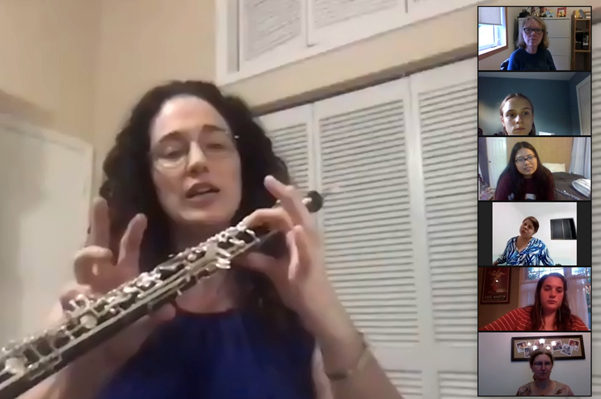 Looking back at this unusual spring semester, the Basie's Conservatory has leveraged virtual learning and extracurricular programs to maintain high levels of student engagement throughout the challenges brought by COVID-19.   While our students and faculty are eager to resume in-person instruction and performances, we've also discovered new opportunities in the virtual environment.  A new partnership with the University of Iowa is just one such example.
Dr. Courtney Miller, Assistant Professor of Oboe from the University of Iowa, partnered with us to launch a tuition-free virtual masterclass and multi-week internship program from May 20-June 10.  Dr. Miller is a highly regarded performer and pedagogue who tours throughout the US, Europe, Asia, and South America.  Along with her graduate student LaBarrin Wallace, they taught and interacted with many of our students.
"I want to extend sincere thanks to Lucy Chen and the Count Basie Center for the Arts for organizing this professional and welcoming masterclass," said Dr. Miller.   "I was excited to see oboists in attendance from around the United States, Canada, and Brazil. The participating students performed beautifully and asked thoughtful questions! I also enjoyed the collaboration with the Conservatory instructors, Lucian Rinando and John Luckenbill, and the musical discussion at the end of the class."
The internship component of this program gave budding musician Mr. Wallace a competitive edge, providing him with hands-on teaching experience and a nuanced view of the rapidly changing music education world.  Mr. Wallace fine-tuned his instruction technique over the course of weekly private and ensemble classes.  As a student educator, he demonstrated an ability to look beyond just teaching notes.  Serving as a mentor, he talked to students about their everyday emotions and gave words of encouragement during these unprecedented times.
By the end of the program, our students learned more than just oboe technique: they saw the commitment required to become a successful musician and educator.  "I appreciate you taking the time to organize such a great opportunity," said Leila Merhi, a Conservatory student.  Reflecting on her experience, and how it will improve her playing, she said "I've already started applying the skills and techniques that I learned."