Conservatory alum hits the presses with debut book on Amazon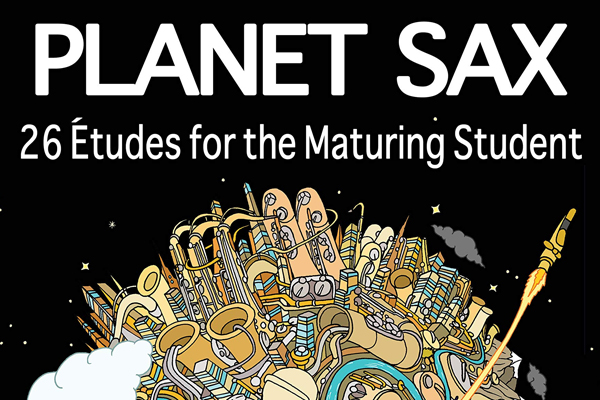 An alumni of the Basie Center's Monmouth Conservatory of Music has published his first book on music theory.
Sam Tobias, 24, of Jersey City, was a student of Conservatory instructor Lucian Rinando. He's currently working on his Masters degree from Montclair State University, but that hasn't stopped him from publishing his first book on Amazon, entitled Planet Sax: 26 Études for the Maturing Student.
We sat down with Sam to ta
lk about his debut publication and his life as both a student and author.
What are some of your recent accomplishments?
I graduated from Mason Gross School of the Arts in 2015 with a Bachelor of Music in Jazz Saxophone. In addition to performing, teaching music is my passion and I have a studio of 40 flute, saxophone, and clarinet students. I am currently pursuing a Masters of Arts in Teaching at Montclair State University to obtain my certificate to teach music in public schools.
In 2018, I published an illustrated book of saxophone études for intermediate students called Planet Sax. I composed each piece in the book to solve a specific technique problem — but I did so within the context of interesting music so that the process of improving as a musician could be more fun and engaging.
Why did you want to be a music major?
I can't imagine doing anything else with my life! At first, I loved to perform. Then, I learned that I love to compose. Later, I learned that I love to teach. There's always something new to learn about music — and the more I learn, the more I realize I don't know. Music has always felt like a natural way for me to express myself and when I teach, I get to share that joy and teach the process to others. I feel very lucky!
Tell us about your experience at the Monmouth Conservatory
I became hooked on music when I was 15 and realized that I wanted to pursue it as a career. I had a lot of motivation and knowledge of music theory — but my practicing didn't have much direction, because I didn't know what to work on, nor did I have someone to help guide my progress. On the advice of a teacher, I came to study with Lucian Rinando and it changed my life.
Lucian had a lot of wisdom to offer, and introduced me to the traditions and methods of practicing and study that he learned from his teachers. In his lessons, I felt that I was a part of the lineage of classical flutists and that I was learning exactly what I wanted to learn. With a lot of practice and Lucian's instruction, I improved rapidly. I looked forward to our lessons each week and look back on that time fondly.
How did the Monmouth Conservatory prepare you for your career?
Lucian taught me how to improve by analyzing and thinking critically about my playing. In fact, I'm sure many of my good habits come from his teaching! Not only do I put those habits and techniques into practice, but I now share them with my students, so that they, too are part of that lineage of classical musicians.
We used a particular rhythm book when working on my sight-reading, which I now use with my students. I also find myself in situations where I'm forced to read difficult rhythms for the first time, and so I think back to that experience and am thankful we spent so much time on it!
What are your future goals?
In the future, I would like to teach music in public school, earn a doctorate degree, and ultimately teach at a university. In addition, I'd like to write a lot more music for students to play and make my contribution to the world of music education.
Sam Tobias' book, Planet Sax: 26 Études for the Maturing Student, is available at Amazon.com.